Numbers and a combo pack for all the people.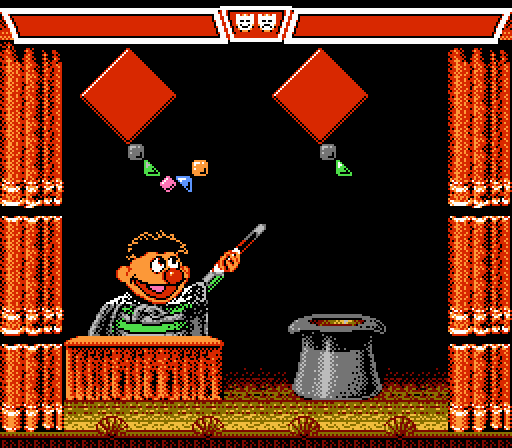 PLAYERS: 1
PUBLISHER: Hi-Tech Expressions
DEVELOPER: Rare
GENRE: Edutainment
RELEASE DATE: January 1989
Not to be confused with Sesame Street: ABC or the aborted time-traveling disco sequel Sesame Street: 456, 123 is the best of the four Sesame Street games. It has a wide variety of content (twelve mini-games, no foolsies) and, best of all, your kids – depending on their pre-existing smartitude – might actually learn something.
Choose from one of two categories: Ernie's Magic Shapes and Astro-Grover. Within Magic Shapes' seven mini games, your child will learn how to match the shape of the object they see on screen with a variety of shapes that pop out of Ernie's magical hat. Depending on the mini-game, you will need to construct abstract shapes, sometimes of varying color, to match the shape that Ernie pre-constructs – all magically, of course. Astro Grover asks kids to count (flashbacks to Countdown – agh, my bleeding brain!) and perform limited addition and subtraction (the numbers only go up to 9 – but still! Math!). Unlike Donkey Kong Jr. Math, which helped no one anywhere ever with their math skills, Astro Grover gently teaches children – using goofy aliens as markers – the fundamentals of basic counting. Sesame Street: 123 edutains so hard. It's not for anyone over the age of 5 (6, if you're looking at the box), but no PBS executives ever promised it would be.
B-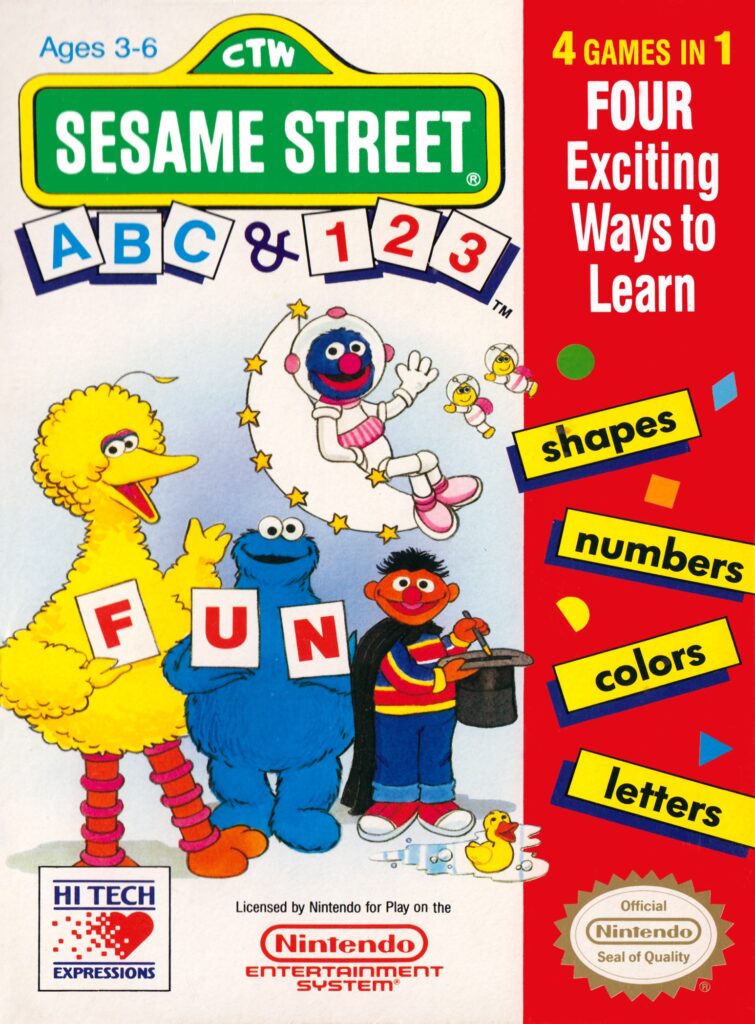 PLAYERS: 1
PUBLISHER: Hi-Tech Expressions
DEVELOPER: Rare
GENRE: Edutainment
RELEASE DATE: November 1991
A couple years after both Sesame Street: ABC and 123 released, Rare and Hi-Tech Expressions released a combo pack; not unlike Donkey Kong Classics that combined both Donkey Kong and Donkey Kong Jr. If you're wanting to raise your kids right by introducing them to retro systems, but you don't want them boiling their brains playing Super Mario Bros or Mickey Mousecapade all the bloomin' day, you'd be hard pressed to find better edutainment than Sesame Street: ABC/123. It's true, I didn't give Sesame Street: ABC a good score (not nearly as edutaining as 123), but two games for the price of one is always a better deal.
B
The following two tabs change content below.
Latest posts by Dylan Cornelius (see all)