Let's learn the alphabet together.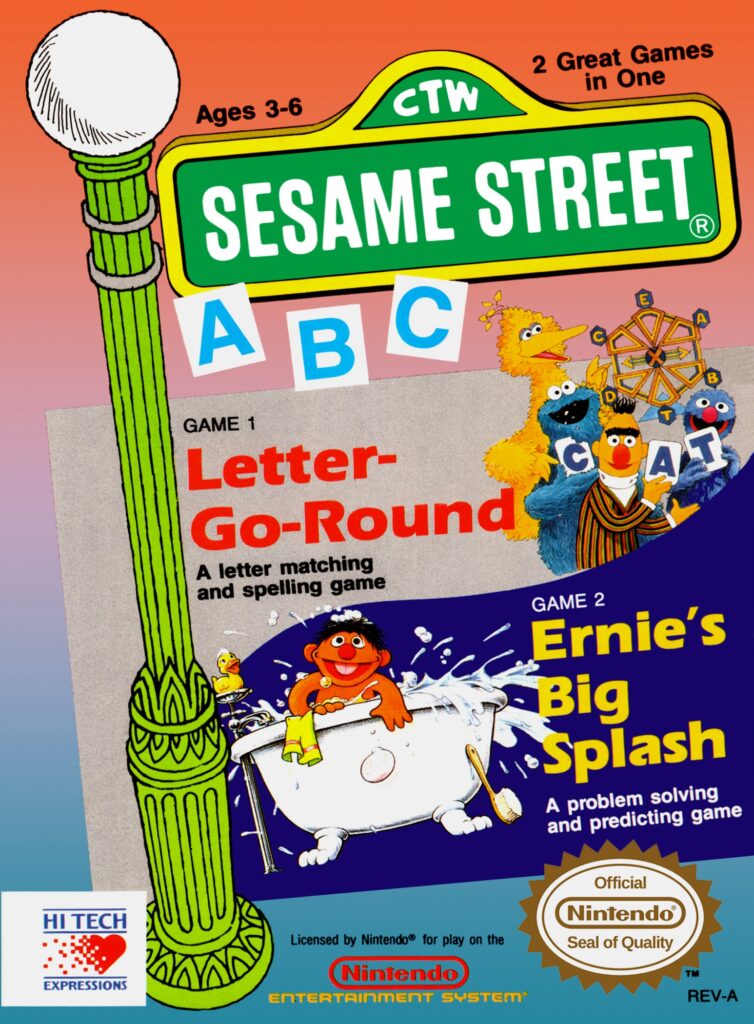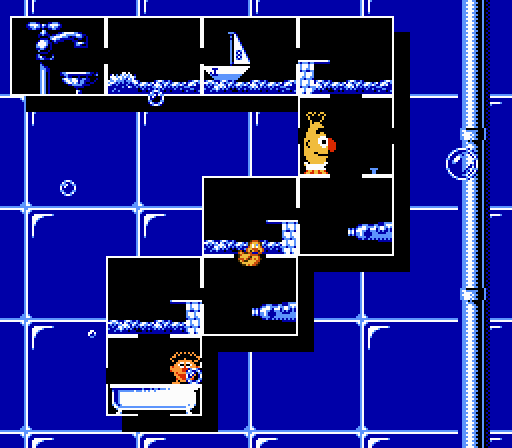 PLAYERS: 1
PUBLISHER: Hi-Tech Expressions
DEVELOPER: Rare
GENRE: Edutainment
RELEASE DATE: September 1989
If you've ever wanted to guide a rubber ducky to a lonesome, bathtub-engulfed Ernie, or detach letters from ferris wheels, you've come to the right edutainment hub.
Sesame Street: ABC provides two distinct and entirely unappealing modes of play for none but the youngest of folk. "Letter Go-Round" actually provides six different challenges within it – Upper-Case Matching, Lower-Case Matching, Mixed Case Matching, One Little Word, What's Missing?, and Spell the Secret Word. The one connecting factor in all of the challenges is the Ferris wheel comprised of different letters. In the "Matching" challenges, you must correctly identify the letter that's spinning on the Ferris wheel with the letter in the bottom right-hand corner. Match the correct letter three times in a row and Big Bird, Ernie, and the Cookie Monster will come out and do a jig for you. With the other three challenges, you must correctly spell a word or identify the missing letters for a word. Complicated it's not, but they're worth completing just to see your favorite Sesame friends boogie.
"Ernie's Big Splash" uses intricate plumbing layouts to reunite Ernie with his rubber ducky. There are a number of layouts to choose from, but only a couple will allow the ducky to progress forward in any given direction. Once all of the plumbing is connected, the ducky will swim adorably to Ernie's bathtub. Ernie will play with it for awhile, beside himself with joy, before quickly forgetting about the duck and losing it again. Then "Ernie's Big Splash" begins anew, forever and ever, until you reset and go play "Letter-Go-Round" again. My, that Cookie Monster is a fine dancer.
My main problem with edutainment games is the lack of varied content. Once the child completes all the challenges, what's left for them to do? Recycle through the same tired material? In general, children love repetition more than adults, but video games are a large monetary investment for adults. As such, edutainment games should come stuffed with learning. Unfortunately, a fifty-page word-search book from the dollar store would provide more depth than this game. Sesame Street: ABC isn't as child-insulting as the Fisher Price series, but it doesn't raise the bar either.
D+
The following two tabs change content below.
Latest posts by Dylan Cornelius (see all)