Strap in for subpar racing.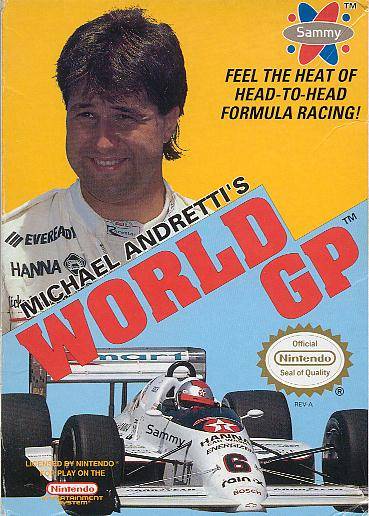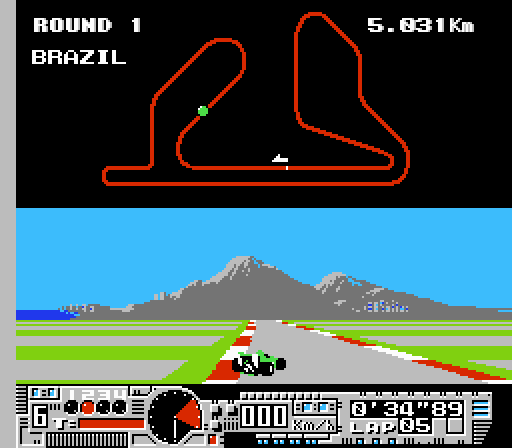 PLAYERS: 1-2 simultaneous
PUBLISHER: American Sammy
DEVELOPER: Human
GENRE: Racing
RELEASE DATE: June 1990
I'm not sure what right a hardcore F1 simulator has in being on a system like the NES. Racing simulators are designed to intrigue the 10% who are enamored with stats, specs, and precise turning mechanics and infuriate the 90% of us who don't care about the accuracy of a virtual car's speedometer. Too harsh, you say? Alright then. Allow me to brief you with an example from the Michael Andretti play book. I was playing in Practice Mode on the Brazil course, which happens to be Course 1. Course 1, I thought. This will ease me into the gameplay. I picked my Lemony Fresh car, complete with V8 Turbo, and set to racing. At first, it seemed like a smooth ride. I'm not a fan of switching gears in racing games either, but it's a nitpick, I'll deal. At one point, I misjudged a turn, and spun out off the course onto the grass… or gravel… I spun out off the course. Getting back onto the course was an exercise in terrorist torture tactics. Despite the fact that I was turning the car towards the course and accelerating, it took about fifteen seconds to get my car back on the course. In a timed race, that's unacceptable. However, is it more realistic than simply coasting back onto the course in mere milliseconds, like other racing games? I don't know, but it felt cheap – and, fair or not, I often equate cheapness with racing simulators. I continued to play a bit more – this time, in the Grand Prix – and I'll say that, when you're actually able to keep your car under control (it's way too easy to slip), World Grand Prix settles into a nice, albeit brief, meditative groove. But if you're like me, you'll veer off course again and the trance will be broken. The devoted few might want to settle in and learn how to overcome the world and its Grand Prix, Michael Andretti-style, but I'd rather play Excitebike.
D

The following two tabs change content below.
Latest posts by Dylan Cornelius (see all)