Gotta break down those walls.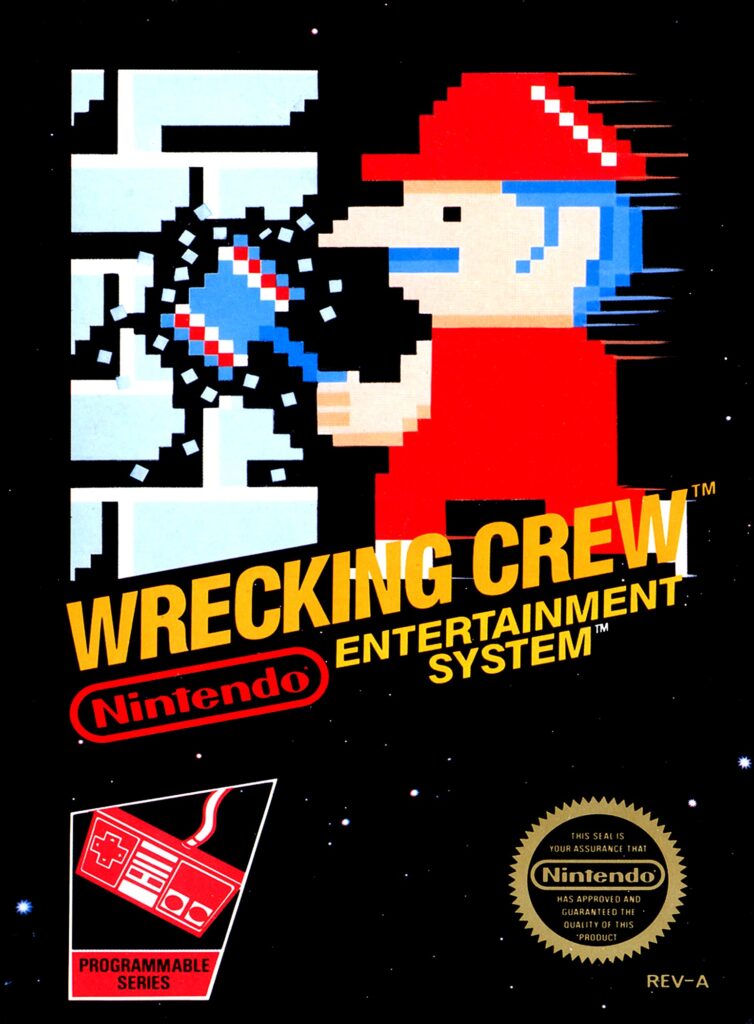 PLAYERS: 1-2 alternating
PUBLISHER: Nintendo
DEVELOPER: Nintendo
GENRE: Arcade/Puzzle
RELEASE DATE: October 1985
Mario and Luigi trade their plumber tools and jumping abilities for giant hammers and construction hats in Wrecking Crew. Guide Mario through 100 intricately designed playfields, filled with crap to destroy. White walls, brick walls, dark brick walls, ladders, and balancing pillars need to be bludgeoned to the ground before Mario can move on to the next demolition site. In your way are: Gotchawrenches, walking purple and red wrenches who don't want to see their beloved walls destroyed; Eggplant Men, walking eggplants who aren't so much vindictive as they are determined to walk across the screen at all costs, again and again; and for whatever reason, Mario and Luigi's grouchy supervisor, Foreman Spike. Spike tries to sabotage Mario and Luigi from doing their job, presumably so he can get them fired for "incompetence." He's tenacious, but blows from your hammer will keep him in line.
Before each stage begins, the camera pans down the length of the stage before rising up again to focus on Mario. This is to give you a glimpse of the stage's layout. Since Mario is deprived of his jumping skills, walls and ladders must be destroyed in a certain order, often from top to bottom. Otherwise, Mario may end up trapping himself with walls still to destroy and no way to reach them. Should this happen, press 'Select' to take you back to the menu screen so you can restart the level. Tired of beating down walls by yourself? An alternating two-player mode and a level maker (unfortunately you can't save the levels you make – later re-releases on Virtual Consoles changed this) round out Wrecking Crew's generous content.
Wrecking Crew is the unsung gem in the NES launch library. Other launch titles like Donkey Kong Jr. Math or Urban Champion felt dated (and awful) from the moment you played them, but Wrecking Crew remains addictive and enjoyable to this day. For my money, it's one of the quintessential puzzle titles for the system alongside the Lolo series. The game would also be Mario and Luigi's last blue-collar excursion for years. Mere months after Wrecking Crew, the brothers were promoted to the high-wage, high-risk position of "Princess Rescuers," inherited the lofty "Super" moniker, and the gaming world was never the same again.
A-
The following two tabs change content below.
Latest posts by Dylan Cornelius (see all)