As super as football gets on the NES.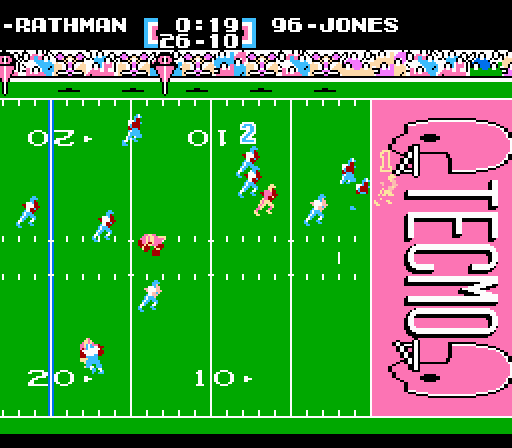 PLAYERS: 1-2 simultaneous
PUBLISHER: Tecmo
DEVELOPER: Tecmo
GENRE: Sports
RELEASE DATE: December 1991
Tecmo Super Bowl is Tecmo Bowl on athlete-endorsed steroids. Everything you appreciated about the original – tight controls, infinite replayability, outlandish cut scenes – is here, plus more. This bowl 'round, Tecmo got both the NFLPA and the NFL's approval to use player and team names respectively. Each of the 28 teams of the '90-'91 NFL season is accounted for, along with expanded stats for each player. Choose from Preseason Game, Season Game (seventeen games total), and a Pro-Bowl Game; you can also pit the computer against each other, play against a friend, or coach a team, like in Tecmo Bowl. There are a total of eight running and passing plays, up from four in the original. The individual games are faster (seconds fly by), and the players hit harder, which makes for a more intense experience. Unlike the original, where it didn't seem to matter what team I chose, in Tecmo Super Bowl it's critical that you pick a decent team. The San Francisco 49ers (with MVP Joe Montana) are a phenomenal team, whereas you should probably think twice about picking the Cleveland Browns (not your fault that your team sucks, Kosar). For the full-on embracer of the pigskin, Tecmo Super Bowl is a game to luxuriate in. For us football Luddites, it's still enjoyable, but not an essential upgrade.
A-
The following two tabs change content below.
Latest posts by Dylan Cornelius (see all)