Football for the people.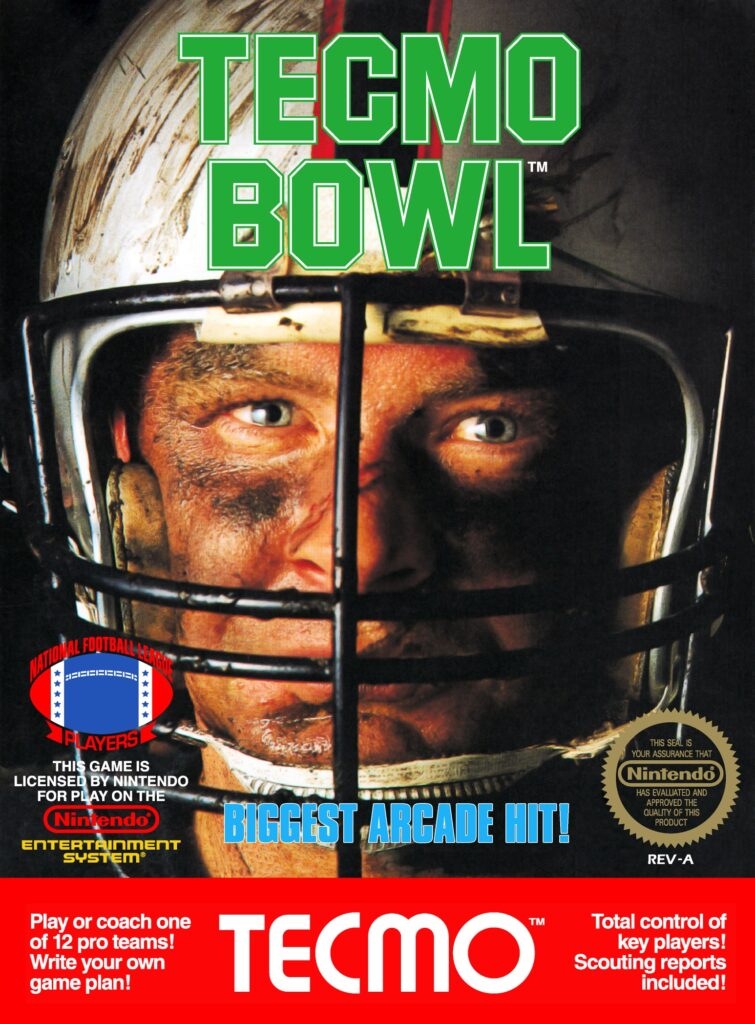 PLAYERS: 1-2 simultaneous

PUBLISHER: Tecmo

DEVELOPER: Tecmo
GENRE: Sports
RELEASE DATE: February 1989
Tecmo Bowl is the quintessential NES football game for casuals and die-hards alike. If you're a pro amateur like me, you can toss the pigskin around without knowing much about plays, downs or stats (or "scrimmage" – what is that, a brunch plate?). But if you manage your own FFL (Fantasy Football League), enjoy the Supreme Mucho Delux-o DirectTV Football Package, and wear your favorite player's jerseys until the pit stains bleed through, Tecmo Bowl will complement your religion.
Pick a team (I chose Seattle – go Space Needles!), get on the field, and let's get to downing*. When you're playing offense, you can choose between four different formations; the formations are different, depending on which team you choose. If you pick a running play, it's up to the quarterback to make a touchdown. If you pick a passing play, you'll throw the ball to a receiver and complete the play. Never throw it to a receiver near the opposing team, as they're likely to intercept it. When playing defense, watch the opposing team's quarterback to see if he's going to run or pass it to a receiver. In my (admittedly limited) experience, when the quarterbacks run, it's much easier to tackle them without them making a down. But if they pass, the receiver will give them their precious down and then some. When switching sides, you'll have an option to "Field Goal," or "Punt Kick." Select either/or to kick the ball as far away from the opposing team's goal as possible. Each game represents a week. Say your team is San Francisco and you pummel Denver. The week ends, San Francisco automatically moves on to the second week and the next team, and it continues like this until you've beaten all the teams.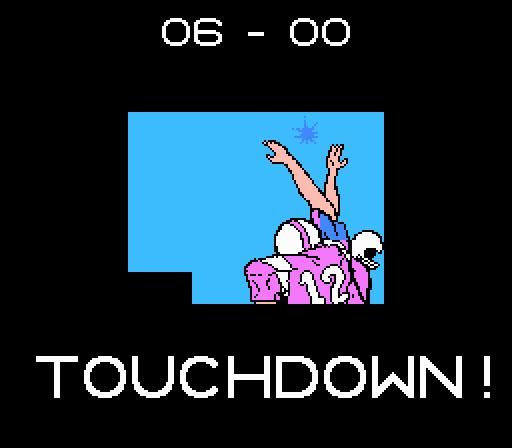 For what it's worth in 2013, Tecmo Bowl has the official 1988 NFL roster. Kurt Warner? John Elway? The Walter Payton? Pfft, please, do not make me think you carry a mental disease. Despite the accurate roster, Tecmo only paid out the NFLPA to use character names, so you'll be pitting cities (Indianapolis v. New York for example) instead of official NFL teams against each other instead. No bother, since the cities represent the appropriate teams, but strange that Tecmo would pay for one and not the other. Twenty-five years later, though, nobody cares because the gameplay (what matters most) remains strong.
Tecmo Bowl has endearing cartoony sprites, surprisingly great sound effects, and most importantly, fantastic controls. Passing, tackling, and switching between players is as smooth and responsive as one would hope from a football game. Play with a friend for maximum awesome, or if you're tired of being on the field, gain forty pounds, buy a clipboard and a hat, and play the 'Coaching' mode. If there's a virtual pigskin-sized hole in your heart (preferably in the shape of an NES cartridge), I'm confident Tecmo Bowl can fill it. Long live Tecmo Bowl.
A-
*I am aware Space Needles aren't actually a team, and "downing" is not a legitimate football term. Jokes all around.
The following two tabs change content below.
Latest posts by Dylan Cornelius (see all)