Falling flat on its face.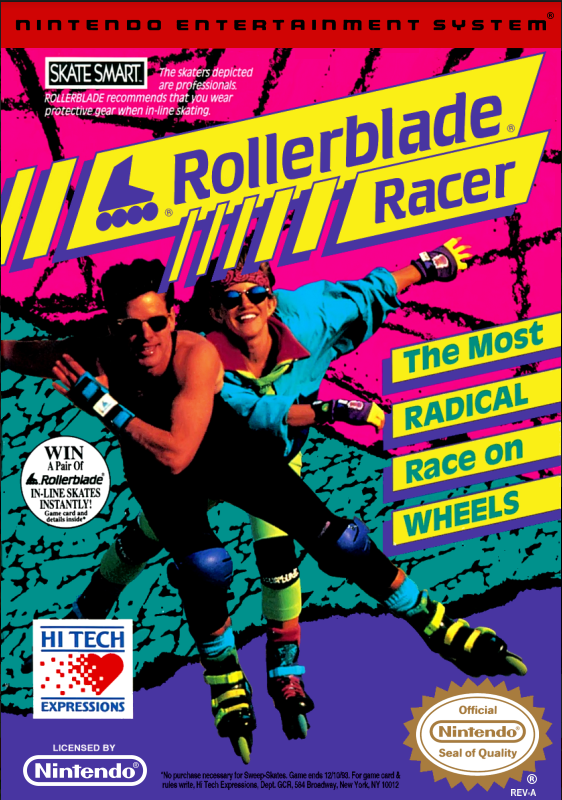 PLAYERS: 1
PUBLISHER: Hi-Tech Expressions
DEVELOPER: Radiance
GENRE: Racing
RELEASE DATE: February 1993
If you've ever thought of Paperboy as a complex game, what with all the tossing of the papers and such, Rollerblade Racer's over-simplicity just might suit your needs. Strap on your skates and thrash through five mediocre locations, like The Neighborhood! Or The Beach! And so forth. The goal is to rollerblade as fast as you can while jumping over stuff that gets in your way. "Stuff" could be anything from cracks in the pavement, frisbees, dogs, etc. Jumping gets you points, regardless of if you actually leap over an object. The larger the object you jump over, the more points you'll get, but you should jump even if you don't have to. You'll need five thousand points to access the last area, according to the rollerblading instructor that appears before the beginning of each level. You can easily collect this amount of points by the first level, which, one would think, would then take you straight to the end of the game. Your rollerblading instructor, however, "recommends" that you continue through each course, despite collecting all the required points. Of course he would. Without going through each level, there would be no game. In the end, Rollerblade Racer really does feel like Paperboy sans any paper throwing/enjoyment. It doesn't infuriate the soul, but it's so poorly made with little depth or replay value, one questions its existence.
F
The following two tabs change content below.
Latest posts by Dylan Cornelius (see all)