Sponsored by mayhem.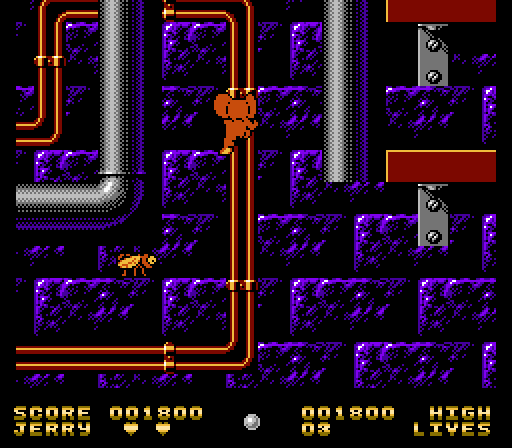 PLAYERS: 1
PUBLISHER: Hi-Tech Expressions
DEVELOPER: Software Creations
GENRE: Platformer
RELEASE DATE: December 1991
Jerry will never be caught by Tom. Tom is either really incompetent (doubtful) or, subconsciously, he doesn't want to catch Jerry at all. They've been chasing/running away from each other for seventy years! That's longer than most married couples. Yes, Tom & Jerry truly love each other, and nowhere is this more evident than Tom & Jerry. You control Jerry, navigating through five pint-size worlds like: the kitchen! The living room! The attic! And so forth. Jerry faces an extreme amount of foes, ranging from the sensical (cockroaches, spiders, and moths) to the nonsensical (chattering teeth, armies of nutcrackers). He carries an unlimited supply of marbles with which to smite his enemies, but he also collects defensive items around each world, like hammers, meat cleavers, bubble gum; the latter are all used in typical cartoonish fashion. Each world has two levels and a boss fight. Understandably, the boss fights are against Tom, but these are the only times you'll ever see him. Not once does he show up in a level, unannounced, ready to behave like the supposedly mouse-hungry cat he's portrayed as. In the majority of boss fights too, Tom appears uninterested, as if he only showed up for contractual obligations. There's a good chance he did. Tom & Jerry is all about Jerry. In a love/hate relationship such as theirs, that's gotta break Tom's juevos a little bit.
B-
The following two tabs change content below.
Latest posts by Dylan Cornelius (see all)