This arcade classic stumbles drunkenly onto the NES.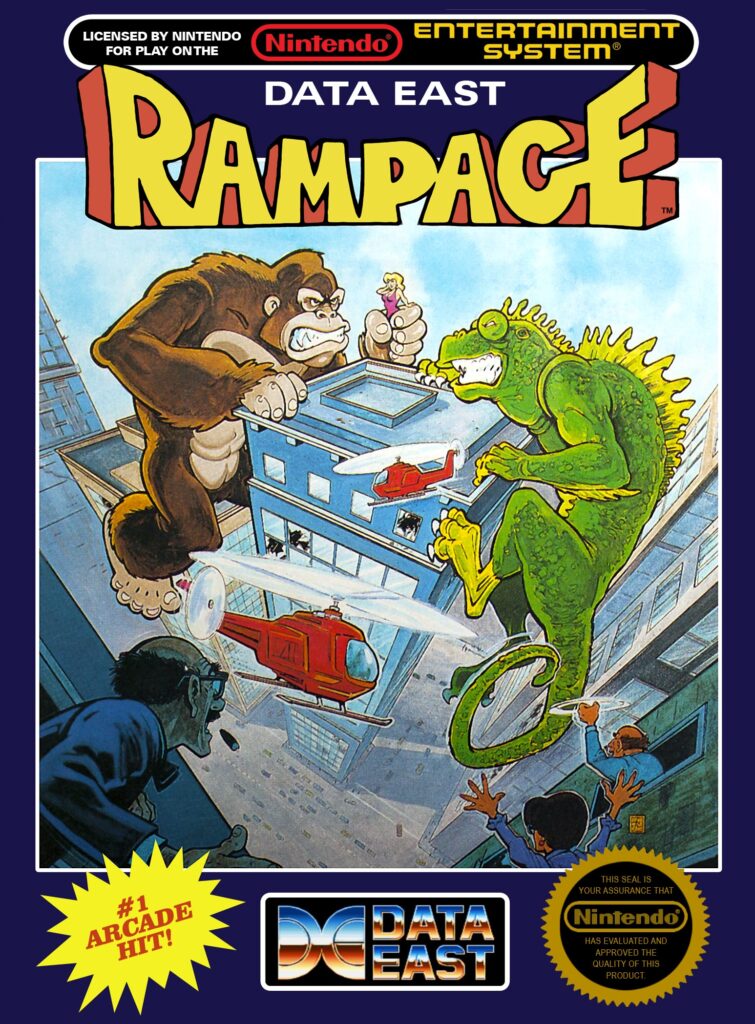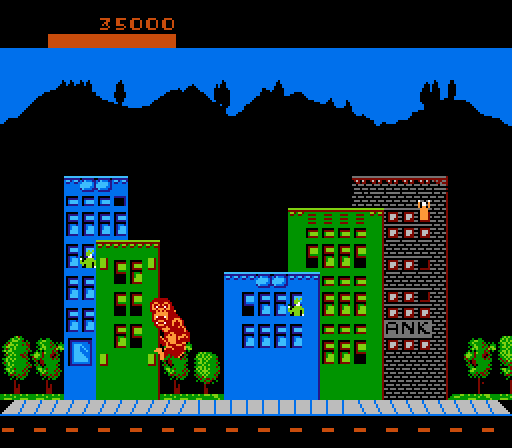 PLAYERS: 1-2 simultaneous

PUBLISHER: Data East
DEVELOPER: Data East
GENRE: Arcade
RELEASE DATE: December 1988
Rampage's building-smashing ethos isn't the most cultured or open-minded, but it does appeal to the destruction-loving child inside. Play as George, King Kong's more aggressive younger brother, or Lizzie, the self-titled "American Godzilla," (Ralph the giant wolf is missing from the NES version) and get to work destroying the cities of America. Climb buildings, smash windows, eat people, punch helicopters, collapse bridges – all in a day's work for these two thug monsters. There are 128 levels in the NES version. Each level takes place in a city and consists of one day. Collapse all the buildings in the level to progress to the next (every city in America looks exactly the same, according to Rampage). If you die in the arcade version, you have to insert another quarter. On the NES, you have as many lives as you can handle. Purists might be frustrated by the lack of difficulty, but I appreciated not having to worry about a certain amount of deaths. The NES version's production values are crappy, at best. The graphics, music, and sludge controls reek of an Atari or perhaps Commodore 64 port. Co-op destruction is available, though it was not readily apparent. The second player has to join in after the game has already started. If you can ignore the cart's physical defects, missing character, and embrace the beast within, Rampage will satisfy, but it's not the essential home version.
B-
The following two tabs change content below.
Latest posts by Dylan Cornelius (see all)