Paving the way for future generations.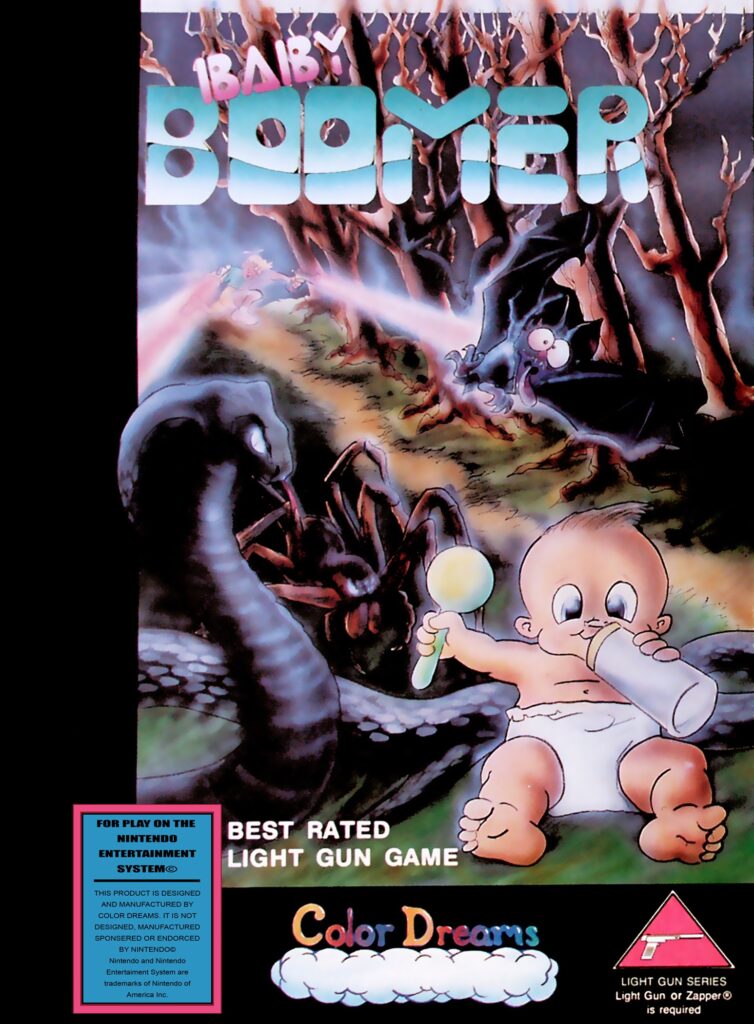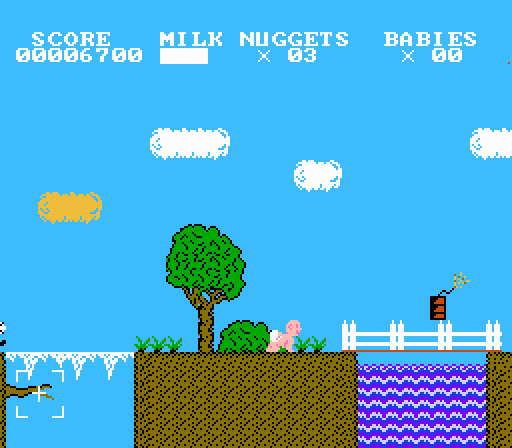 PLAYERS: 1
PUBLISHER: Color Dreams
DEVELOPER: Color Dreams
GENRE: Light Gun
RELEASE DATE: 1989
Many of you know people or have parents that are "Baby Boomers" but do you know any babies named Boomer? I'd rather have a large percentage of the population be re-named by Nicolas Cage than hear of any child's birth name as "Boomer." As it so happens, Baby Boomer is about a young toddler named Boomer who has to crawl slowly through nine torturous levels to get back to his mom (though there's no official story, I'd like to think he was kidnapped by his hot-rod driving, coke-sniffing father, only to be accidentally set free by his dad's free-wheeling hippie girlfriend – hey, that premise could be half of a Nicolas Cage movie!). As a silent sniper guardian, use your Zapper to eliminate any and all creatures that want to kill/eat poor Boomer. Snakes, skeletons, bats, demons, fish (dreaded fish!) all have it out for poor Boomer. They appear quickly (almost too quickly) so you better have a steady trigger finger and swift reaction time. One hit and Boomer's… dead? Nah, he just cries a lot, but you will have to start at the beginning of the level and that's almost as bad as being named Boomer. Keep on the lookout for bottles of milk to shoot. If Boomer's milk meter goes down, more crying will ensue. Twelve gold nuggets can be collected for an extra Boomer, for what that's worth. It will take long nights of staying up with Baby Boomer for you to beat it, and in my opinion, Boomer and his game aren't worth the dark saggy eyes. Worth playing to satisfy curiosity.
C
The following two tabs change content below.
Latest posts by Dylan Cornelius (see all)