A little older, a little stranger.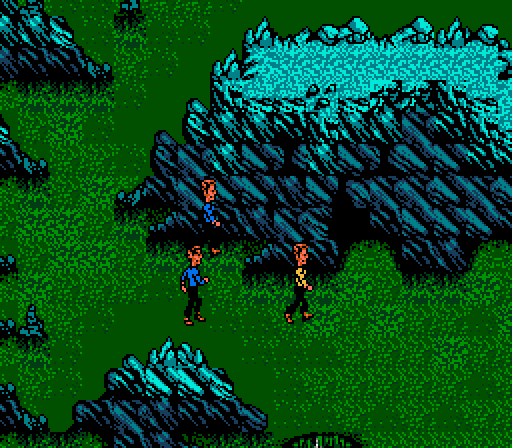 PLAYERS: 1
PUBLISHER: Ultra Games
DEVELOPER: Konami
GENRE: Adventure
RELEASE DATE: February 1992
Set phasers… to lull! Kirk, Spock, and associates want you to search for dilithium crystals, battle Romulan warships, and meander aimlessly around foreign planets. After being sucked through a dimensional hole, the crew is stuck in the middle of uncharted space, with the Enterprise's power completely depleted. Re-charge the ship, travel back to Federation Space, and save Iotia, the planet you were trying to reach before being sucked through the hole. With Kirk leading a team of two (Spock, Bones, or other lower-ranked officers), you explore a series of unknown planets and solve the mysteries within.
An action-packed race to save the galaxy this is not, nor should it be. Star Trek's slower pace and puzzle-oriented gameplay make logical sense, in the context of the show. Unfortunately, exploring the planets feels like a chore. Despite the different landscapes, each of the planets – whether they're crucial to progression in the game or not – feel sterile, barren, and boring. My brothers in Trek, this laziness should not be. Also, like many 8-bit adventure games, the puzzles are hit-and-miss. Some of them are clearly laid out, with challenging, but workable solutions – like the symbol puzzles in the temple on Masaba. Others are ridiculous, like the door on Lekythos that requires dozens of hits to open; no doubt several players have given up on this door because of how long it takes. The framework of the game is solid. After each mission, you're whisked back to the cockpit. You can "discuss" strategies with Sulu, Uhura, or Scotty and decide which planet to travel to. But once you've beamed down, no amount of hyper molecular regeneration can make 25thAnniversary interesting.
C-
The following two tabs change content below.
Latest posts by Dylan Cornelius (see all)