T.V. gone amok.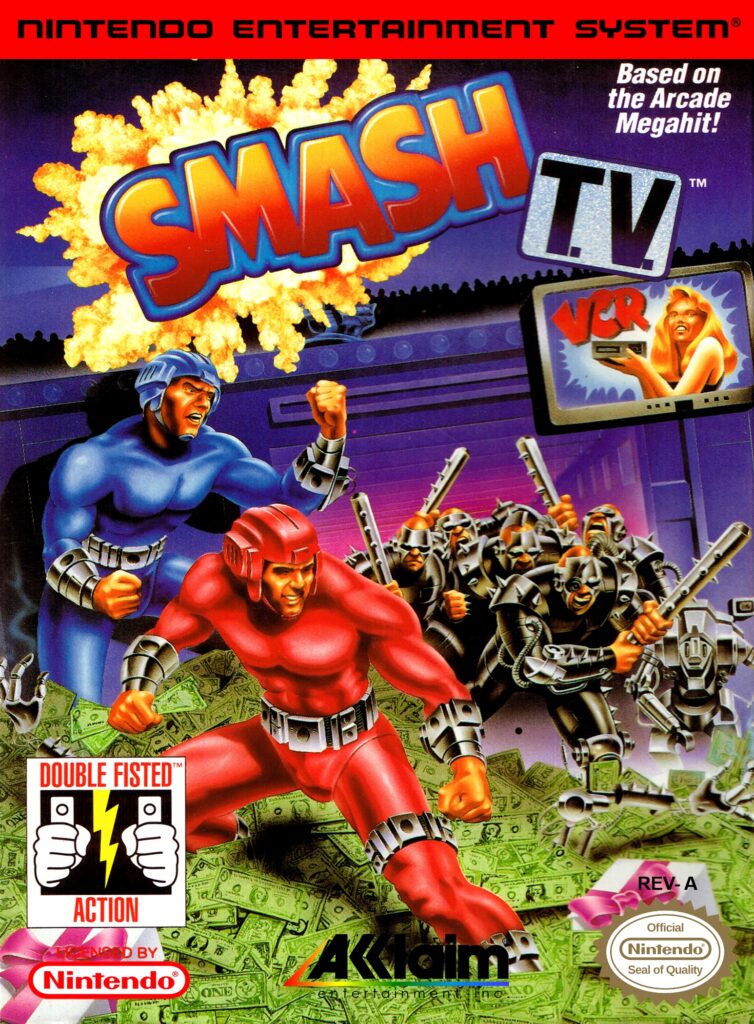 PLAYERS: 1-2 simultaneous

PUBLISHER: Acclaim
DEVELOPER: Williams (port by Beam Entertainment)
GENRE: Arcade
RELEASE DATE: September 1991
Violent game shows: the scourge of civilization in 1999! Fight for your freedom and fat stacks of glorious cash in Smash T.V., the game "heavily inspired by" the Arnold Schwarzenegger film, "The Running Man." There are four arenas, with multiple stages in each arena. Each stage is filled with weapon upgrades, an overabundance of enemies, and gold bars, precious gold bars. Fend off the hordes, grab the cash, and don't die. Smash T.V. was known in the arcade for its insane boss battles, and understandably if not regrettably, they have been scaled down to fit the limitations of the NES. To its credit, though, Smash T.V. bears perhaps the most unique control scheme on the system. Play with one-player, and you have the option to use one controller or two. If you pick two controllers, the first controller will use the D-pad to move, while the D-pad on the second controller will allow you to fire and switch between weapons; if you have two players, you can use an NES Four-Score. It's a clever concept that mimics the dual-joysticks in the arcade, but it does come with a learning curve; master it and there will be no televisions you can't smash. Despite the worthless graphics, minor censorship, and sub-par predictions of the future (1999 was the year that Boy Bands and Rap/Rock Roamed the Earth), Smash T.V. translates well to the NES. Total Carnage. I like it.
B
The following two tabs change content below.
Latest posts by Dylan Cornelius (see all)