Rollerblading and the NES just don't mix.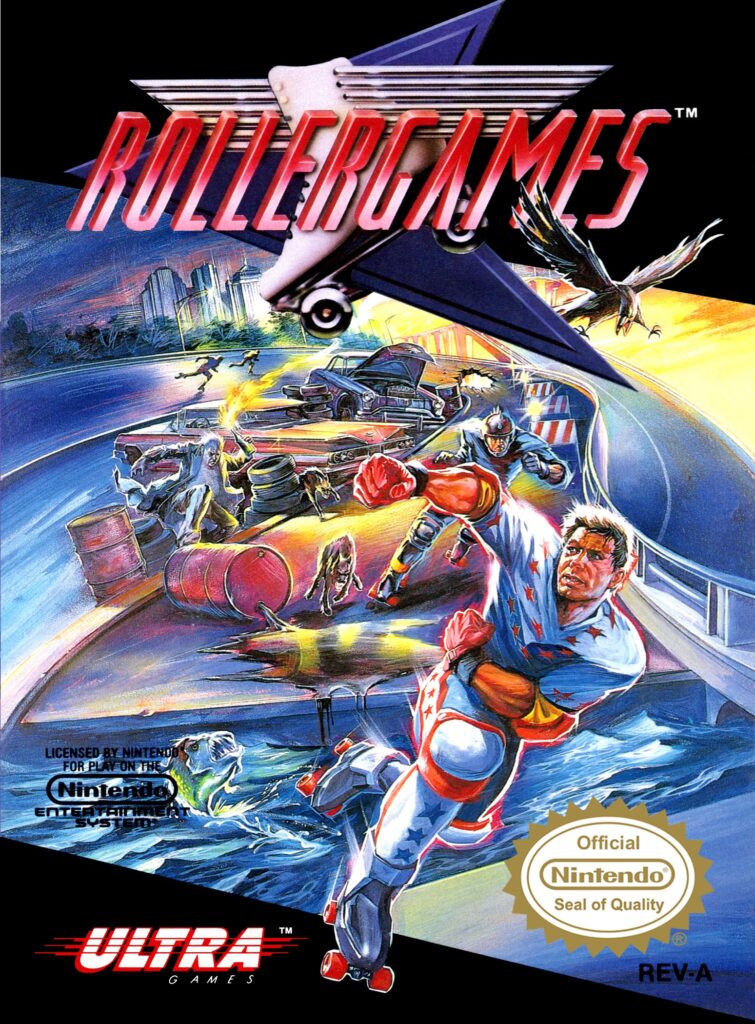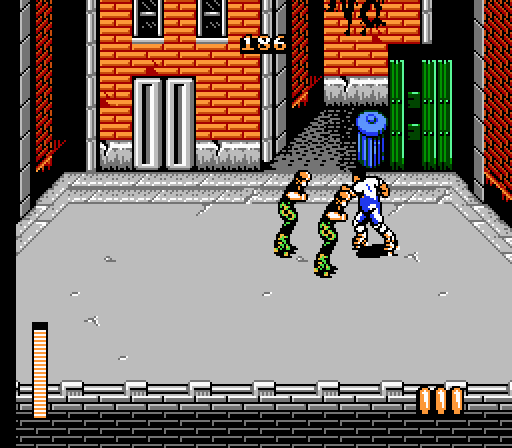 PLAYERS: 1
PUBLISHER: Ultra Games
DEVELOPER: Konami
GENRE: Platformer/beat-em-up
RELEASE DATE: September 1990
How many rollerbladers does it take to make a decent beat-em-up? I don't know, but don't rely on any of the three playable characters here to do much more than fall over repeatedly. Or fall down chasms. Or sucked down holes. Or punched in the face. All that and more happens in Rollergames, one of the most promising, yet poorly executed, beat-em-ups I've ever attempted.
Story: rescue the RollerGames Commissioner from one of the "bad" rollerblading teams. Choose from one of three "good" rollerblading teams, T-Birds, Hot Flash (yes, this is a woman's team), and the Rockers. The T-Bird character is slow and dumpy, the Rocker is too concerned with his looks, but Hot Flash has just the right amount of speed, stamina, and spunkiness (in comparison with the other two, at least). Why did the so-called "bad" rollerblading teams turn on the Commissioner, you ask? Pay issues, mostly. If they had their own union, this whole incident could have been avoided.
But I digress. The rollerblading beat-em-up concept is intriguing, if not a little goofy, but Konami's atrocious design render Rollergames practically unplayable. Remember in Teenage Mutant Ninja Turtles 2 (another Konami-developed game) when you fall down a sewer? You eventually regenerate on the screen, only with slightly less health. In Rollergames, if you fall into any pits or open manholes or any hole whatsoever, you're dead. And you have to start at the very beginning of the stage. And there are holes everywhere. The hit detection is crap. If you come anywhere near an enemy, and don't pummel them onto the ground immediately, you'll be going down just by brushing up against them. God help you if/when you try to rollerblade from a ramp onto a moving platform atop a bottomless pit. Given Konami's acclaimed track record of non-stop greatness, Rollergames is an incredible disappointment. Sorry, Mr. Commissioner. You should have chosen a competent rescue squad.
D
The following two tabs change content below.
Latest posts by Dylan Cornelius (see all)