Quite the treacherous affair.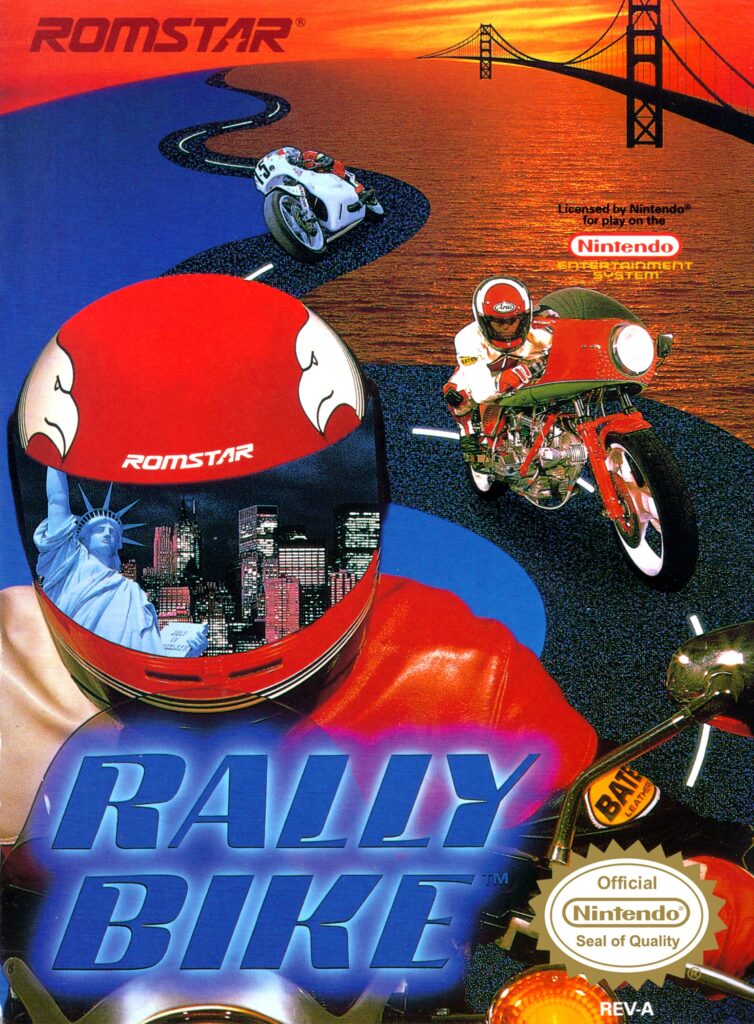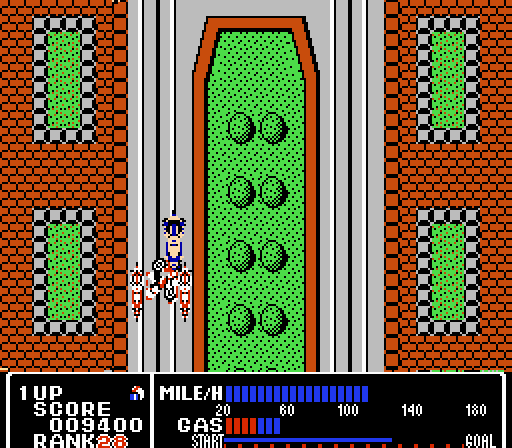 PLAYERS: 1-2 alternating
PUBLISHER: Romstar
DEVELOPER: Visco
GENRE: Racing
RELEASE DATE: September 1990
You're gonna need more than headgear and padding to make it through Rally Bike. Fifty bikers (including you), treacherous terrain, and an ever-depleting gas meter challenge your mettle and your patience. Unlike most NES arcade racers where the object is to drive as quickly as possible, Rally Bike demands you take your time and be aware of your surroundings. Spacious four-lane highways instantly morph into a crowded forest; clusters of trees emerge from nowhere, seemingly hellbent on your demise. That particular track transformation occurs in the first fifteen seconds of track one and the tracks only get more challenging from there. The computer bikers consistently crash all around you, pushing up your rankings. On most tracks, you'll only need to rank level 30 or 20 to qualify for the next heat. Reach the qualifying level or a few places higher and stay there. If you crash, you start at the very beginning of the track. This wouldn't be an issue in something like Rad Racer, but Rally Bike has some of the longest tracks I've ever seen in any arcade racer. Occasionally, helicopters will drop down items for you to use. Extra gas, invincibility, and helper cycles that you can crash into opponents are all great items, but they don't get delivered as often as they should. After you complete a track, you can decide to upgrade your engine or your tires. Since going fast isn't a necessity, pick tires. Better grip leads to less crashes, which leads to a more alive and vigorous you.
Rally Bike is a really unique concept for a racer. It emphasizes good driving reflexes and absolute survival over pure acceleration. Unfortunately, starting over at the beginning of each race after you crash really depletes the game's fun factor. In the arcade version, you could begin the race right where you crashed. Other bikers might pass you, but that's an acceptable loss versus being thrust back to the start of the track. I wish I could buckle up with Rally Bike, but jarring difficulty prevents me from enjoying myself.
C-
The following two tabs change content below.
Latest posts by Dylan Cornelius (see all)