The incurable fascination with all things Pac-Man.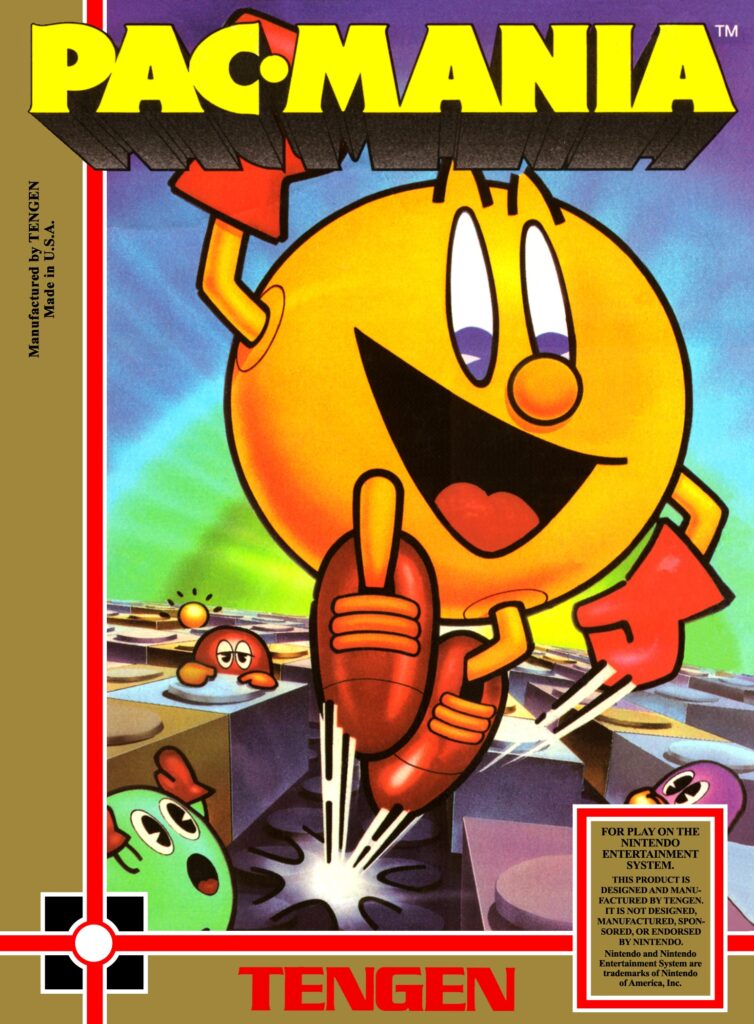 PLAYERS: 1
PUBLISHER: Tengen
DEVELOPER: Westwood Associates
GENRE: Arcade
RELEASE DATE: 1991
Ever wonder what it would be like to play Pac-Man…IN 3D? Pac-Mania takes Pac-Man's paltry two-dimensional gameplay, and adds an extra dimension, thereby giving Pac-Man and his world a bulbousy coat of neon paint. The basic waka-waka-waka remains the same: pellets and fruit are all up for gobbling grabs, as are the ghosts when weakened in their blue state. Unlike the original, which had a measly four ghosts (Blinky, Pinky, Inky, and Clyde), Pac-Mania adds three new ones: Sue (the purple one!) and Funky and Spunky (Green and Gray!). Adding ghosts is key to Pac-Mania. Not only are the levels larger, but Pac-Man can jump (thanks for the influence, Mario!). One might think that Pac-Man's jumping ability would make the game too easy; jumping seems like an efficient way to avoid any and all ghosts that are trying to disintegrate the Pac's three-dimensional corpulence. Alas, Funky and Spunky can jump as well, and they jump whenever Pac-Man jumps. Get cornered by them and you'll be demoted to two-dimensions. Pac-Mania also introduces three new unique game boards, with funky fresh names like "Pac-Man's Park" and "Sandbox Land." "Jungly Steps" has to be my favorite: no railings atop a skyscraper in space. Unlike Pac-Man, which is consistently excellent, Pac-Mania takes a few levels to get going. Pac-Mania's fun enough while you're playing it, but there's nothing it does that's an essential leap forward for the series. Like so many 3D conversions of classic gaming mascots, it promises more than it delivers.
B-
The following two tabs change content below.
Latest posts by Dylan Cornelius (see all)