Right on cue.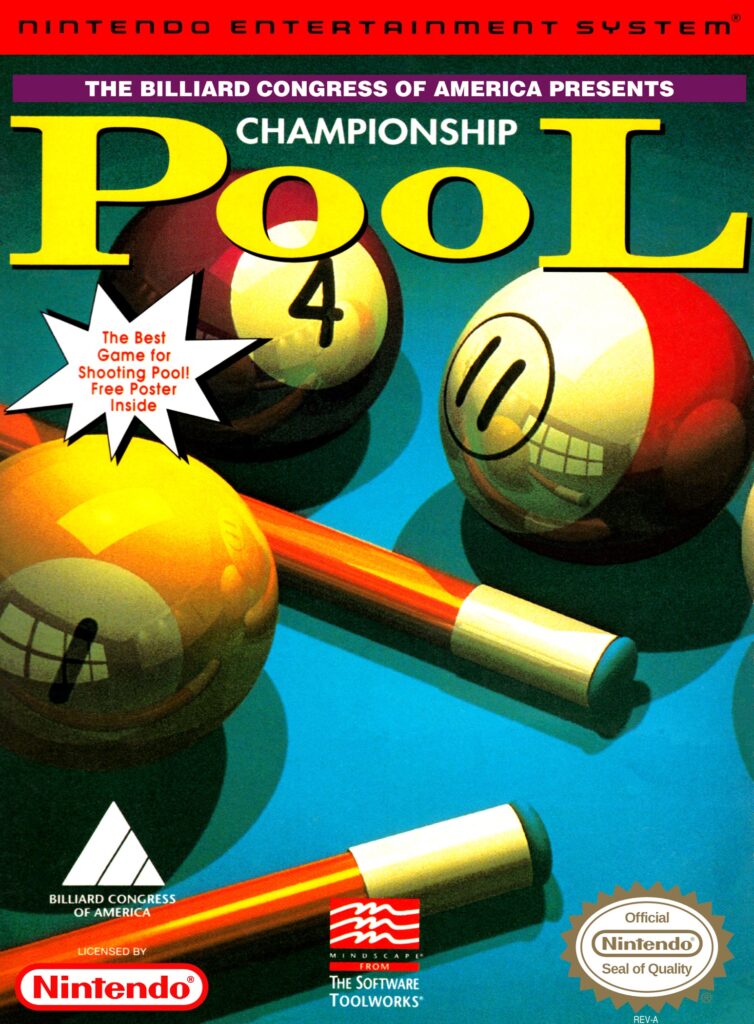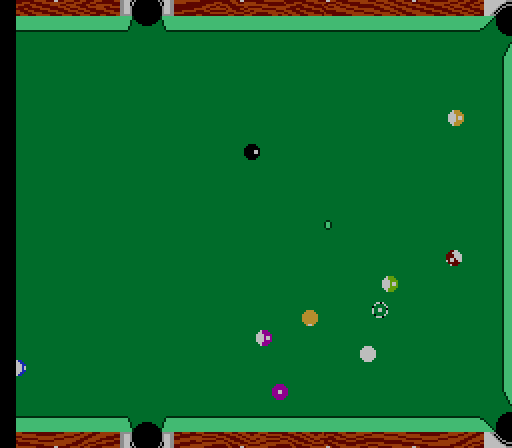 PLAYERS: 1

PUBLISHER: Mindscape

DEVELOPER: Bitmasters
GENRE: Parlor
RELEASE DATE: October 1993
Directly after the action-packed, sex, drugs, and-rock-n-roll filled masterpiece that was Championship Bowling comes its brother/sister/whatever in spirit, Championship Pool. Have you ever wanted a pool game for your NES that had such soul-grating, off-time music, that to hear it would be to listen into the very bowels of the bowels of hell? I thought so. Here's two minutes worth of in-game music that Otouto72 decided to post on Youtube. I can't tell if the user comments are serious or not.
Aside from the music, Championship Pool is a decent, time-waster of a game; one that you pick up from a pawn shop for a dollar and play for an hour with a couple buddies before setting it back into your NES collection. It has all the typical modes a pool game should: tournament, challenge (a simple three-round game), party (for all the party people with multitaps, holla), and freestyle (a no-holds-barred anarchist take on pool). In the challenge mode, you can choose from the varying types of pool games, like 8-ball, 9-ball, 14.1 Continuous, etc. What makes Championship Pool stand apart from all the Side Pockets and Breaktimes out there is the aiming system. If you drag your cursor to the ball you want to hit and press "A" once, it will show you the direction the ball will go if you choose to hit it there. Move the cursor gently around the ball and the direction's movement will change. Move the cursor to a different ball and it will do the same thing. It's a really unique feature that, surprisingly, doesn't make the game easier, but it certainly helps you make the best shots available.
I'm about as good at virtual pool as I am at real pool, which is to say, awful. Techniques, strategems, and a "help-you-win" aiming system aside, I can not play Championship Pool to save my life. Unlike other NES games that loathe the player and his mission of actually enjoying a good game, Championship Pool has its cue in the right place. It doesn't matter that the graphics look like they're covered by a thick haze of cigar smoke, or that the music is bad, like Michael Jackson. The mechanics and controls work well. What else can a virtual pool enthusiast ask for?
C+
The following two tabs change content below.
Latest posts by Dylan Cornelius (see all)