Good thing Natsume clarified what SCAT stands for in the title.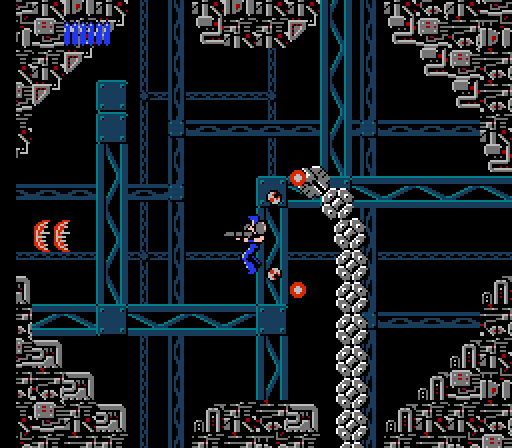 PLAYERS: 1-2 (simultaneous)
PUBLISHER: Natsume
DEVELOPER: Natsume
GENRE: Shoot-em-up
RELEASE DATE: June 1991
The future! If videogames are to be believed, the future is scary and metallic, filled with Robot Dictators and dystopian societies. And yet, thankfully, there's always one man (or woman) who can redeem us from our cold, heartless overlords. In S.C.A.T., there are actually two, but both perform the same function: to attack special cybernetics; if there are two players, these special cybernetic attackers will "team" up, thus resolving the acronym.
In essence, S.C.A.T. is a shmup, but instead of guiding a hovering ship, you guide a hovering superhero. The superhero has one standard laser weapon, and two floating orbs that circle him as he flies. The floating orbs shoot out orb-ular red balls of destruction anytime you shoot. You can have them float around you constantly or lock them into into place using the 'B' button. Since your firepower is pretty weak (even with most of the weapon upgrades), these orbs are a tremendous asset to recovering our future. Different levels call for different orb positions, but I personally set them diagonally forward at most times. This position prevents any untoward enemies from advancing too far.
Three weapon upgrades, but only one you'll want to use at all times: Laser (enhances your puny starter weapon a touch), Bomb (throws out a bomb as slowly as possible) and Wave (has a fantastic range and can be shot quickly – no contest, Wave's the fave). You can also acquire Speed, which speeds up your superhero and your weapon, and Recover, which recovers life.
S.C.A.T. isn't the most visually inventive shooter, but the controls are tight and the gameplay is fast and exciting. You will die a lot, but your deaths will lead to greater skill, a must for any shmup. The future S.C.A.T. paints is a bleak one, which makes me proud to help destroy those who made it possible. May your internal components rust for eternity, Robot Dictators.
A-
The following two tabs change content below.
Latest posts by Dylan Cornelius (see all)