Fighting balloons 'til the breaka breaka dawn.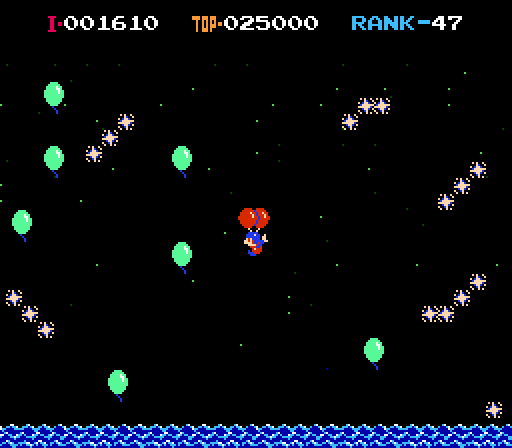 PLAYERS: 1-2 simultaneous
PUBLISHER: Nintendo
DEVELOPER: Nintendo
GENRE: Arcade
RELEASE DATE: June 1986
Balloon Fight is a veiled metaphor for the underground animal fighting circuit. In the game, harmless creatures are tied to one balloon and thrust into an outdoor arena, where lightning and big mouth bass are but two of the challenges that await them. You play Plucky, a cock-eyed optimistic lad who has TWO balloons tethered to him instead of one (as a result of his unchallenged awesomeness in previous bouts). The goal is to pop the balloons of the others before your balloons get popped. Between every two or three stages comes a bonus round, where you must collect all the balloons in order to get a lot of points. Personal favorite thing about Balloon Fight: pop your enemies' balloon, then sit on the sidelines and watch as they float slowly down to the water where the big-mouthed bass will eventually eat them. Balloon Trip is a side-quest, a one-man navigation through the stars. Your goal here is to collect as many balloons as you can while avoiding the stars, which electrocute you. By collecting the balloons, you reduce your rank from 50 to 1. It's an interesting way to give a simple game some replay, but once you reach rank 01, nothing else happens. You continue to collect balloons and float through the black abyss of space, until a star manages to strike your body and you die.
Balloon Fight feels like an updated version of Joust, which is good. The idea behind Joust was interesting, but the execution fell short, thanks to sloppy controls. Balloon Fight's controls aren't amazing, but they're more precise than Joust's by a mile. At a time when the NES hadn't reached its potential, and Super Mario Bros. was still the most complex game available, Balloon Fight was just OK. As of 2011, I only like it because I grew up with it, and because I can still take out those dastardly balloon freaks with one hand behind my back (Getting to level 25 is a regular occurrence, as is cruising my way through Balloon Trip until I'm ranked number 01). Otherwise, it's uneventful.
B-
The following two tabs change content below.
Latest posts by Dylan Cornelius (see all)