What really goes on behind those swinging double doors?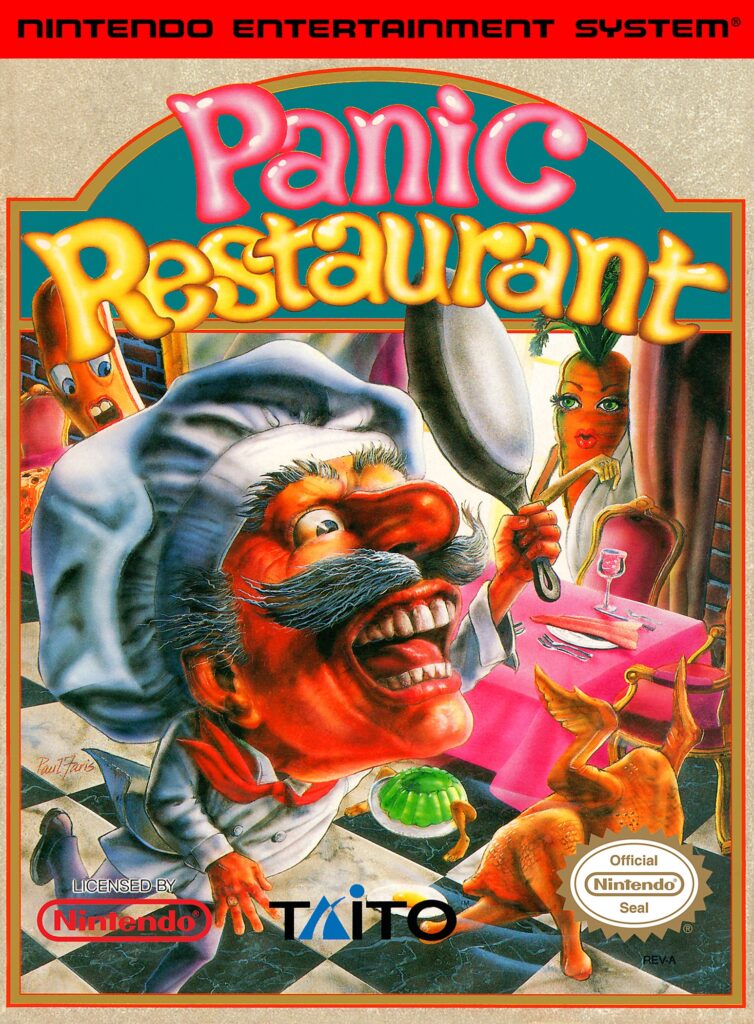 PLAYERS: 1
PUBLISHER: Taito
DEVELOPER: EIM
GENRE: Platformer
RELEASE DATE: October 1992
Panic Restaurant is very much about a goofy fat mustachioed chef trying to save his stolen restaurant from a goofy evil mustachioed chef. How did this incredibly Japanese game ever get licensed for America, you ask? Well, Clinton was about to be elected, morals were looser, and the economy was booming. Platforming games with chefs were just the beginning! Bizarre premise aside, Panic Restaurant is a straightforward platformer: progress from left to right, hit/avoid enemies, and try to stay alive. Without the quirk, Panic Restaurant isn't much, but there's a lot of quirk; enough to see the game through its six moderately challenging stages. Quirk examples: umping across deep fat fryers on fry bubbles, attacking a microwave that shoots turkeys at you, bouncing baguettes, omelettes, and other miscellaneous foodstuffs. I tell ya, it's a menagerie of strange and that's just the way I likes it! Monsieur Chef attacks with his standard non-stick frying pan, but he can also collect other weaponry. He can bounce on an oversized novelty fork, throw plates at passing pizzas, or spoon naughty foods into submission. Get hit once and you're back to the Non-Sticky. There's also a slot mini-game in between levels because even chefs have to stop cooking and gamble every so often. Get lives, points, extra health, if you fancy you're fancy enough. Panic Restaurant was handcrafted by the artisans at Taito for your enjoyment. If you're looking for a game with personality, please do not hesitate to enjoy.
B
The following two tabs change content below.
Latest posts by Dylan Cornelius (see all)