Why yes, it did just get incredibly dark in here.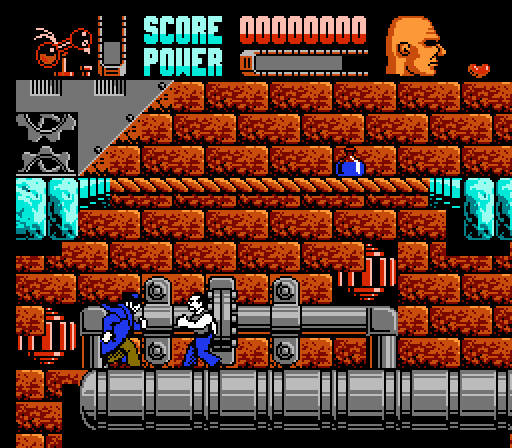 PLAYERS: 1-2 alternating
PUBLISHER: Ocean
DEVELOPER: Painting By Numbers
GENRE: Action
RELEASE DATE: October 1991
Ocean can proudly take its place by THQ and LJN in the Trifecta of 8-Bit Unholiness. Darkman, like most licensed games based on decent-to-outstanding intellectual properties, is a disaster: atrocious controls, poor graphics, rushed gameplay. Like most poorly made games, this one is needlessly difficult and there's an obnoxious time limit. I think that about covers it. Darkman runs like he's constantly on oil and he can't jump to save his life – literally. His attacks are a mere punch and kick that only connect half the time; if you've ever played Urban Champion, you know where Ocean got their inspiration for the battle system. Darkman himself looks like Uncle Fester – isn't he supposed to be wearing a mask, not fifty pounds of white makeup? The real two-word question of the day is, why bother? There's nothing to separate this game from any other pile of feces-ridden, licensed dreck that the NES was subjected to one too many times over its nine-year lifespan. "Darkman" did poorly at the box-office, which is something of a double-edged sword. While I wish the film had performed better, I'm glad the poor box-office gross probably lead to negative sales for this game. Someone should TAKE this game and DRAG IT TO HELL.
F
The following two tabs change content below.
Latest posts by Dylan Cornelius (see all)