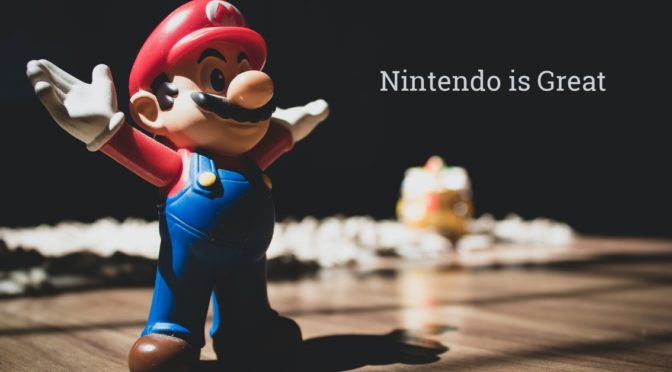 A Brand New Nintendo Quest Begins!
Hello friends. How long has it been? The only correct answer from where I'm sitting is "too long."
I promised you all a FamiQuest and a FamiQuest I did not deliver.  For that, I apologize.
Also, Disqus has not been keeping me posted on new comments for the last year or so now? That's crazy.  I apologize for that as well, even though it's totally Disqus' fault.
Today, however, I'm proud to announce a long overdue expansion of The Quest to Review Every NES/Famicom Game.
"Nintendo is Great" is a new series that will celebrate Nintendo by exploring every game ever released for a Nintendo console. I'm beginning with the Famicom and will work my way up to the Nintendo Switch.
Presuming I write one post a day, I'll hit the Switch by the time we're all ancient and gray. Sounds great!
Here's the caveat: Nintendo is Great will not be featured on Questicle. It will instead be featured on my new venture, the Retro Gaming Archive.
The reason this Archive exists is simple: I want to write about more than just Nintendo games. And yes, I do have Sega Does for all my Sega needs, but I want to write about more than Sega games as well. Basically, if I feel like exploring the TurboGrafx-16, PS1, or Neo*Geo (or any other older console), I have an outlet for it.
Right now, the Retro Gaming Archive is a project dedicated to the exploration of all video games. These explorations will initially take place in the form of written features. As the Archive grows and expands, we will inevitably launch podcasts, stream, make videos, and produce more content. For now, features are our wheelhouse.
Hopefully that excites you as much as it does me. If not, good news! Questicle in its current form will remain online for the foreseeable future. If I ever decide to shut it down, I promise to give you all plenty of notice.
"Nintendo is Great" is currently live over on Retro Gaming Archive. I've been writing posts for awhile now, so there's plenty of new content for you to read. I'll see you there!
Best,
DC
The following two tabs change content below.
Latest posts by Dylan Cornelius (see all)